Tips in Decorating a Home with Floor Length Mirrors
A floor length mirror is a great decorating technique that you can use at home. It makes small spaces look bigger and it helps make a room illuminated. Many people are intimidated with using large mirrors and here are some tips on where you can incorporate a tall mirror in your house.
Inside the closet. Place a floor length mirror inside your closet to utilize an unused space. The height of the mirror will elongate the room and you can use it to check out your look or a new outfit that you just had bought before leaving the bedroom.
Leaning against a wall in a less-traffic area. If you want your large mirror to lean against a wall, it's wise to place it in an area where there is less traffic such as a home office, parlor, or a guest bedroom. This avoids accidents, especially if you have energetic kids bouncing around the house.
Behind a sofa or an accent table. Place a large mirror behind a sofa for added security. You can also put a big mirror on a wall behind a small table. Place some unique and interesting items on the table such as a big seashell, hardbound book, or vase. Instead of a table, you can place potted plants on the floor.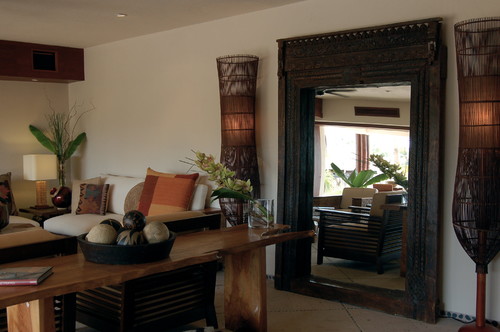 Entryway. One of the best spots of placing a floor length mirror is at the entryway. Let a beautifully framed mirror welcome you and your guests as you enter your house. It's also a great spot to check yourself before leaving the house.
End of the hallway. Expand your living spaces by placing a mirror at the end of the hallway. Hallways are usually narrow and less lighted and a mirror can immediately make the space seem expansive and it can bounce off the little light coming in this area.
In the bedroom. Lean a floor length mirror at a corner of a bedroom for more support. You can also place it on a wall near the bed. As a matter of preference, some people avoid placing mirrors in a spot where they will see themselves as soon as they wake up.
Staircase. Put mirrors on the wall opposite the staircase to create an increased sense of space. You can also put a large mirror beside the staircase.
MirrorLot are experts when it comes to manufacturing large framed mirrors. They sell floor length mirrors, big bathroom mirrors, contemporary framed mirrors, and more. They have an extensive line of beautiful frames and they can manufacture a mirror specific to your customizations.
Image source: www.houzz.com