Big Mirrors in the Living Room: 5 Inspirations
A mirror is a great element to incorporate in a living room's design. It is a decorative and functional accessory that can help maximize the style of a room. A mirror can come with a frame which you can have custom made at a local mirror shop. You can have a big mirror to occupy a large part of the wall and to bring an interesting focal point in the living room. Aside from being a decorative piece, a mirror can make a small room look more expansive and it is one of a designer's best tool in creating an illusion of space.
Here are inspirations in using big mirrors in the living room:
A stunning white frame mirror complements this living room. The color of the frame echoes the color scheme used in the area. The bright hue of the frame blends with the background and its design mimics the design of the sofa. The big mirror is placed behind the sofa so it doesn't clash with the other elements in the space.
two beveled mirrors add glamor to the eclectic living room
The larger the mirror, the larger space it reflects. Two beveled framed mirrors positioned side by side create an interesting focal point. The mirrors reflect different areas of the room– one reflects natural light from the windows while the other one reflects the chandelier in the dining area. They provide enough illumination, giving a warm and cozy feel in the living area.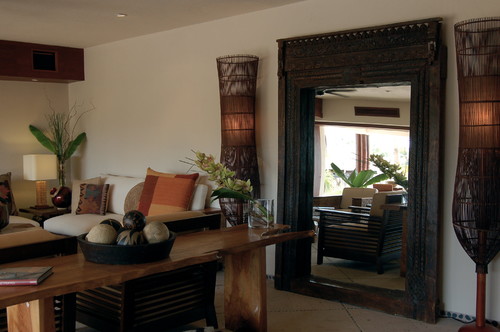 An oversize mirror in the entryway demands attention. The thick frame gives the mirror adequate support and the location of the mirror reflects natural light. A huge mirror like this is a good statement piece in a room. You can ask your local mirror shop for a custom sized mirror to fit the space in your living area.
a framed mirror in a family room
Place a beautifully framed mirror between two artworks, while reflecting a wall with more paintings. The mirror is positioned in the best spot of this family room. It reflects a nice view while reflecting natural light. The design of the frame complements the style of the room and brings enough shimmer to the space.
a tall mirror looks like a window
The tall mirror between the windows give you an illusion of another window. The frame is similar to the molding used in the windows so you can easily mistaken the mirror for a window. The height of the mirror elongates the space and a tall mirror is recommended for decorating narrow or low-ceilinged rooms.
MirrorLot manufactures big mirrors, floor mirrors, wall mirrors, and more for living rooms. They have years of experience in providing custom made mirrors to home owners, interior designers, and decorators. Visit the website at www.mirrorlot.com to know more about MirrorLot.
Image source: www.houzz.com