Easy Steps on How to Secure Leaning Mirrors
A leaning mirror is a nice addition in one's home. It is used for artistic and functional purposes. A large, floor mirror usually comes in a beautiful frame, enhancing the aesthetics of a room. It gives the illusion of space and it's easy to make a small, cramped space look expansive. Aside from its decorative benefit, a large, leaning mirror can enlighten a room by reflecting natural light and light from candles, lamps, and other light fixtures. People also use big, leaning mirrors to save energy. When it is placed near windows or a door, it effectively illuminates natural light. You don't have to put many light fixtures since the mirror can adequately light up the area. It's also easier for a person to dress and check his appearance with a floor mirror. Before leaving the house, you can easily do a final check with a leaning mirror placed near the front door.
Leaning mirrors are not only big in size, they are also heavy in weight. If you're placing a leaning mirror, here are the steps on how you can position it securely to avoid accidents and to keep the mirror safe from sliding and falling over.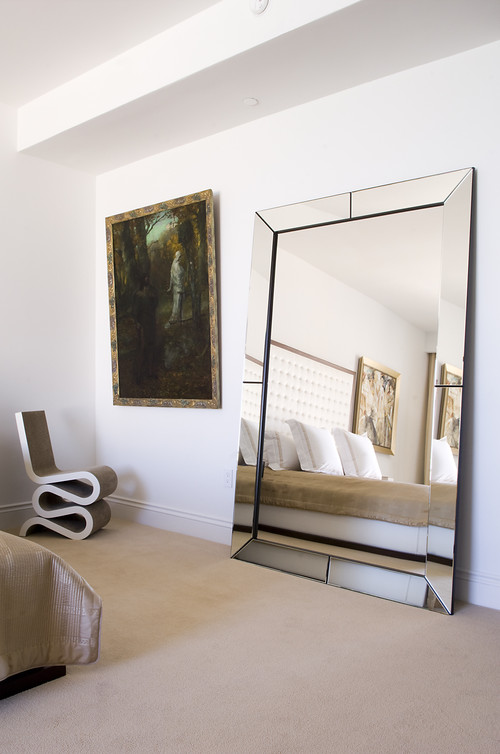 Materials needed:
pencil

ruler or measuring tape
masking tape
screws
screwdriver
cable
wall anchor
Steps:
1. Measure the dimension of the top frame of the leaning wall. Find the center of the mirror. Put a small piece of masking tape to mark the center. Tip: For more security, mark two points on both sides of the mirror.
2. Place the leaning mirror against the desired wall. Ask the help of another person in moving the mirror if it is heavy for you. You wouldn't want to damage the mirror before you're able to place it.
2. With a pencil, make a mark on the wall where the center of the mirror is located. If you made two marks on both sides of the mirror, make a mark of these points on the wall.
3. Remove the mirror from the wall and measure 2 inches below the pencil mark(s). Make a mark in this point.
4. Attach the wall anchor into the wall where you made the second pencil mark(s).
5. Screw one end of the cable to the wall anchor.
6. Place the mirror on the wall and attach the other end of the cable to the wall anchor at the back of the mirror.
Note:
When you buy a leaning mirror, the screws, cable, and wall anchors are provided.
MirrorLot manufactures beautiful, large leaning mirrors for the home. It is a mirror retailer which specializes in providing big, oversized, and framed mirror. Visit the website at www.mirrorlot.com and browse to MirrorLot's extensive product line of mirrors.
Image source: www.houzz.com